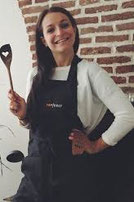 Meillleure amie de Valentin -créateur de The Daily Juicery- depuis le collège, Lucile a toujours travaillé à la vente chez Parent primeurs en tant qu'extra, en parallèle de ses études.

Diplômée d'un master 2 de Droit privé mais passionnée de cuisine, c'est après son échec au concours du Barreau que Lucile rejoint la Team The Daily Juicery pour ne plus la quitter. 
Amatrice de jus détox et du fait-maison à partir de produits frais, elle commence par développer la gamme des Cooking Box...puis décide de s'attaquer à la marque en entier.

Avec Valentin, ils se donnent pour mission de la faire grandir, grandir et grandir la marque, vers l'infini et l'au-delà !